Originally added on 24th March 2009
Last updated on 2nd April 2009
This is the sixth - and a rather longer - Moroccan post.  It looks a little at mindfulness and interpersonal conflict.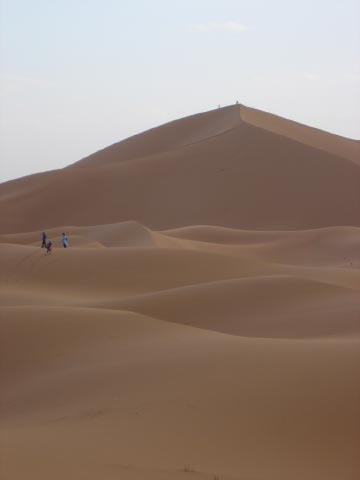 And after the siesta yesterday, we walked (again without the camels) up to the top of the highest "singing dune" (so-called because of the noise it sometimes makes in the wind).  We sat with the sun setting and then ran wildly down the steep, maybe 300 foot or so, slope of the dune.  Then back through the diminishing light to the camp.
There are two big tents - one for our five Berber guides - and the other for some of us.  We also have a couple of smaller two-man tents we can put up, if we want to ... and there's the special option too of sleeping out under the amazing stars!
Several of us have talked of seeing this trip as involving three intertwined themes - deepening our relationship with ourselves, deepening our relationship with the landscape, and deepening our relationship with each other.