Originally added on 3rd May 2018
Last updated on 5th May 2018
I've already written a couple of posts about this trip to Sweden - "Achieving clinical excellence (ACE): the 'Becoming a more effective practitioner' conference in Sweden" and yesterday's Achieving clinical excellence: pre-conference workshop 'What is FIT? The research behind it and how to do it'". Today is the first full day of the conference itself. Here's a link to the schedule for the two days. So this morning we have Birgit Valla giving a keynote on "How Norway is using FIT". Then, after coffee, there are four brief 15 minute talks - Bruce Wampold on "Contextual model", Kim de Jong on "Differential impact of feedback on practitioners/research", Heidi Brattland on "When, for whom and how: Towards a nuanced understanding of FIT's effects", and Jason Seidel on "Mistakes will be made: On the groundlessness of Feedback-Informed Treatment". Then in the afternoon there's a further keynote by K Anders Ericsson on "Deliberate practice", then a break and a choice of ten workshops - I'm going to the one on "FIT-Supervision".
The morning kicked off with an initial keynote by the impressive Birgit Valla: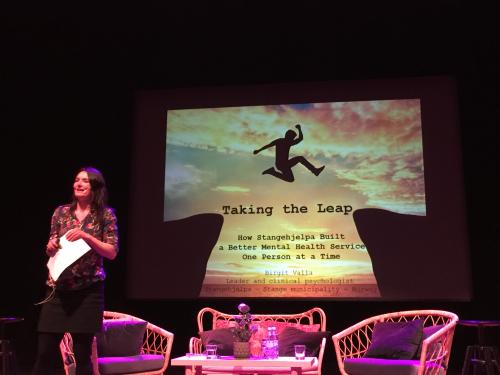 There was so much that I found good about this presentation ... and the prolonged applause Birgit received at the end of her talk suggested I wasn't the only one. For me it was inspiring ... I jotted down notes while she was speaking ... "I found this talk moving … so idealistic, intelligent, iconoclastic, humble … seemed so respectful of her clients … in many ways so much more inspiring than other more famous presenters here."
There were only a few slides (here's a PDF of them). What we heard was her story ... how she felt as she understood how little psychotherapy's results have improved over these last decades and her brave, compassionate, determined, 'visionary' response to this. And it really seems to have worked so well ... in the improving outcomes they're achieving, in the number of people they help, in the apparent high morale of her team, and in the interest her work has generated. It sounds fabulous. I think the applause and my impulse to go up to thank her after her talk were about the quality of her life journey. This is well worth remembering for when I present. Her impressiveness was partly about the results that she has achieved but, for me, it was more about how she has lived her life.
A few comments to note about what she's done ... the way the mental health service she has developed has been squarely based on the expressed needs and feedback from service users ... everyone is accepted and there are no waiting lists (!) ... the focus on improving quality of life/wellbeing and her belief that the Outcome Rating Scale (ORS) does this well ... her emphasis that Feedback-Informed Therapy (FIT) is about feedback ... it tells you how you're doing … then you have to decide what to do about it.
She introduced a three-steps-to-improve-outcomes model: 1.) Find out what kind of results you want. You'll tend to get what you measure (Swedish ski jumper story). 2.) Confront the brutal facts … the feedback. It's hard for clients to give feedback. It's a real skill getting high quality feedback … it won't make you more effective, but it will help you be clearer about what to work on. 3.) Now you can start to practise … not hierarchy, but lots of discipline, pretty strict … FIT, group & individual supervision, group is good for creating a common culture (often about the client), while the individual supervision is more about the therapist (sounds a bit like therapy for the therapists), and then every week get together to do skills practice … think of ourselves a bit like a soccer team … choose a different skill each week? … how to start a session, how to finish, etc. Staff say that it's good to do this as a group as it's outside individuals' comfort zones. When practising a new skill … always start with why … how can this skill help get us to where we want. May well do role play, practise sentences, get feedback … sit in on each others' sessions … use video of sessions. High expectations. Never satisfied. Always trying to get better. What we need to do is engage people in their own healing from the very start of treatment …
There was a quote from one of her team (40 of whom had come through to the conference from Norway in a bus) ... "It is strenuous. You are expected to deliver all the time. But being part of a team that dare to have new thoughts, and that wants something, is really exciting. I need it, or I would grow tired. It is demanding, but then there is that feeling we experience when we have climbed a mountain top. Then it is all worthwhile. It is incredibly fun to make new discoveries and experience mastery." And further quotes: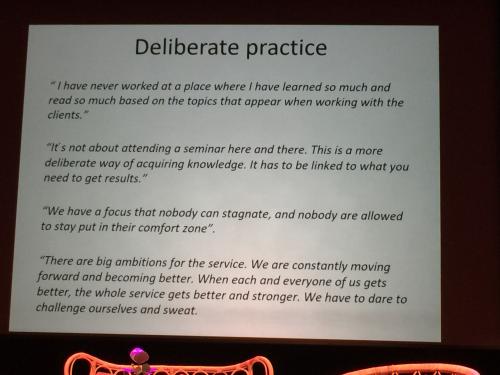 Birgit told the story of the wise man and the butterfly "claiming" it had happened near the Norwegian country farms where she grew up. And near the end of her talk she said "A movement starts with friendships … that they believe there's a better way of doing something." It reminded me of that special quote from Margaret Mead "Never doubt that a small group of thoughtful, committed, citizens can change the world. Indeed, it is the only thing that ever has."
I've thought a good deal about Birgit's talk since hearing it. Why was it so inspiring? How much was it actually about Feedback-Informed Treatment and how much is the inspiration (and the improved outcomes) about a raft of other changes that have come along with ... and even preceded ... the introduction of FIT? We know that, just as with practitioners, different mental health organizations get very different results when compared with each other (even when using similar psychotherapeutic approaches with similar client populations) - see, for example, "Transparency about the outcomes of mental health services (IAPT approach): an analysis of public data". We know that practitioner burn-out is frighteningly common - "Predictors of emotional exhaustion, disengagement and burnout among improving access to psychological therapies (IAPT) practitioners" - and is importantly associated with client outcomes - "Associations between therapists' occupational burnout and their patients' depression and anxiety treatment outcomes". We know something too about the importance of inspirational, faciiitative leadership, about leading from values & a shared vision, about the power of intrinsic motivation, about how organizational style feeds down to affect how practitioners treat clients, about the importance of mindset. As an aside, Birgit & colleagues acknowledged how helpful they had found Stephen Covey's classic book "The 7 habits of highly effective people". So much. As Einstein said "It is theory which decides what we can observe." For me, what Birgit's talk reminds me is that it is possible to serve our clients more fully, more respectfully, more helpfully ... that these values can energise us & those we work with ... that it is possible to make the world a better place. FIT is a tool. Like any tool, it can be used in many different ways. How we use it is crucial to whether or not it coordinates with, is supported by, and supports many other crucial changes needed to build increasingly helpful mental health organizations.