Originally added on 11th March 2011
Last updated on 4th April 2011
Last week I wrote on "Psychotherapy & positive psychology: why psychotherapists should pay attention".  This week I look at positive psychological assessment.  The very widely used DSM system classifies mental disorders on five axes - clinical disorders, personality disorders/retardation, medical conditions, psychosocial/environmental problems, and global functioning.  The US DSM and parallel WHO ICD approach have evolved with a huge amount of work over many years.  Understandably positive psychology is well behind the "mental disorder industry" in producing a well developed "diagnostic system" for mental wellbeing.  In fact, variants on the DSM's axes 4 & 5 - psychosocial & environmental strengths and global functioning - could helpfully be used as part of a mental health classification.  Currently wellbeing assessment is often thought of as a "dashboard":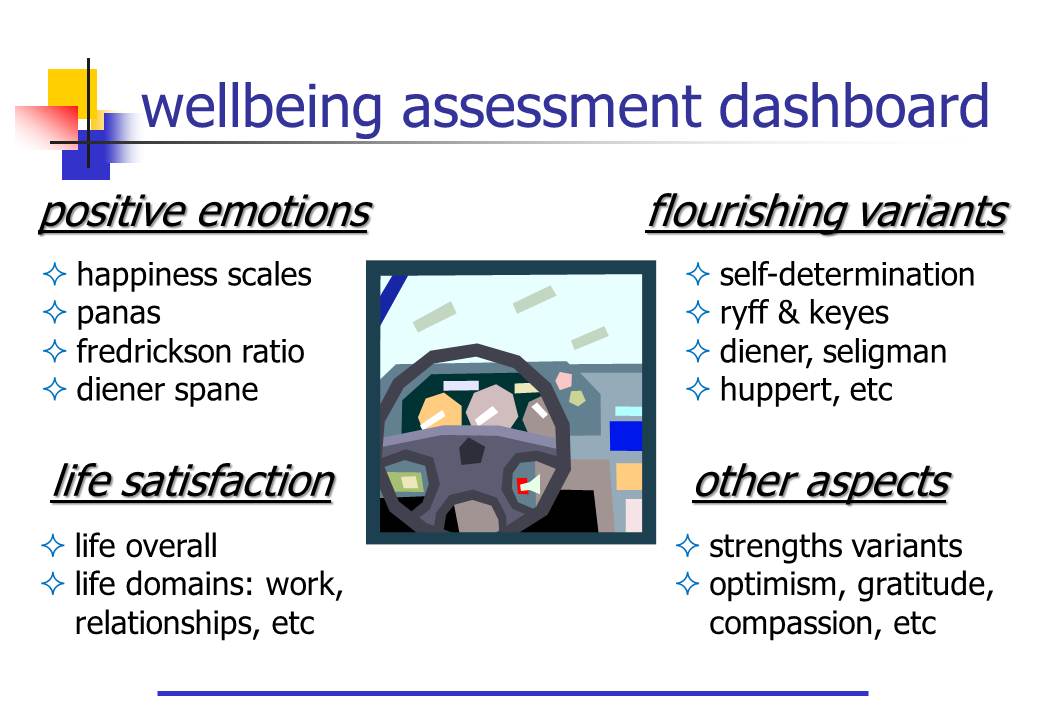 This diagram is downloadable both as a PDF file & as a Powerpoint slide. 
Using this dashboard analogy, I've listed several of the most widely used assessment approaches for "mental health".  So, for example, clearly wellbeing is likely to involve positive emotions.  Besides simple "happiness thermometer" scales, the PANAS (Positive & Negative Affect Schedule) has been frequently used as an assessment measure.  A problem with the PANAS is that it doesn't adequately look at quieter positive emotions like peacefulness and contentment.  Diener et al's SPANE (Scale of Positive & Negative Experience) is a new kid on the block for emotion assessment.  It seems pretty good.  My favourite however is still Fredrickson's Positive:Negative Emotional Ratio - see the "Emotions, feelings & personality" page of this website for more on Fredrickson's work, and also my report from last summer's European Positive Psychology Conference (5th post).  
As for flourishing variants, I've written quite extensively about Self-Determination Theory (SDT) on this website.  I frequently get clients to think about how adequately they are meeting their needs for "Relatedness", "Autonomy" & "Competence", and I emphasise the importance of this if one is to flourish more fully.  As for Ryff's important work - see descriptions and handouts on the "Wellbeing & calming skills" page - and see a further European Positive Psychology Conference (2nd post) report for more on Keyes.  Diener et al's Flourishing Scale is a recent arrival, and see a recent free full text article for more on Seligman's "PERMA" approach (Positive Emotions, Engagement, Relationships, Meaning & Accomplishment).  Huppert's work is described at the the Cambridge Well-being Institute website.
For longstanding research on life satisfaction, see the Satisfaction with Life Scale and associated background details for interpreting scores and to provide links.  There are many other aspects of mental health that are also being explored.  Note, for example, the wide subject coverage at the University of Pennsylvania's "Authentic Happiness" website and the important effort to understand human character strengths more at the "VIA Institute on Character".  Other approaches to strengths assessment include Linley's "Strengths2020" site and Rath's "Strengthsfinder 2".  Books tend to date quite quickly in this fast moving field.  There is something of an endless stream of experts and semi-experts publishing popular books on aspects of positive psychology.  There are also a good few academic texts.  "Positive Psychological Assessment" by Lopez & Snyder was published back in 2003 - more recent is their 2nd edition of the Oxford "Handbook of Positive Psychology". 
I wrote recently on "The spectrum of mental health: part 2 - moderate & full wellbeing" pointing out that less than 20% of the population qualifies as "flourishing".  This is important - for quality of life, for relapse prevention, and for optimal functioning.  It makes very good sense to assess mental wellbeing & work to improve it - for ourselves, for clients, for organizations, and nationally.
For more on positive psychology, see next week's post "Psychotherapy & positive psychology: outline of a workshop".