Originally added on 18th July 2019
Last updated on 28th July 2019
I wrote yesterday about a pre-conference workshop I attended on "Reimagining CBT for depression" with Keith Dobson. Today is the first of the three full days of the '9th World Congress of Behavioural & Cognitive Therapies' conference proper. They aren't taking any prisoners ... each day runs from 8.30am to 6.00pm. My Airbnb is about a 40 minute walk from the CityCube conference centre, so the day pretty much runs from 7.30am to 7.00pm ... not a holiday!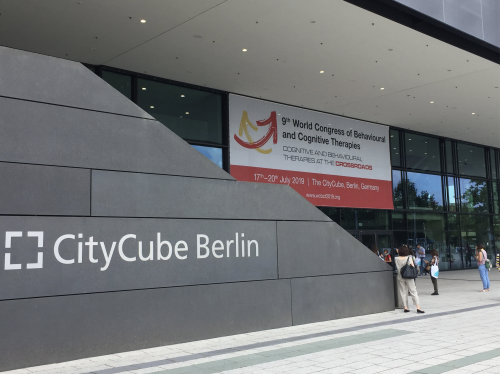 Apparently this is the "largest global CBT meeting ever held". I gather we have over 4,000 participants. Running these big conferences is something of an art form and it's well done. The 12-page at-a-glance slimline version of the overall programme shows me that when I get to the conference at 8.30 this morning, I will have a choice of 28 different symposia, panel discussions, skills classes & open paper sessions ... and that's before I even get to the great wealth of current research poster sessions. By 10.30am I have to do it all again, but now I have a choice of 30 different options. Over each of the three full conference days, I have about 6 choice points ... so about 18 events to attend, chosen from the many 100's on offer. Gosh. And we're each given a fairly bulky 152 conference book covering our choices. But freely downloadable are another 840 pages of conference abstracts in two volumes. Bloody hell!!! Actually I rather like this kind of information cornucopia. My plan for the day, after poring over my choices is a symposium on chronotherapy, another on sleep, and then a plenary on PTSD. I've reduced my choices this afternoon by booking a longer in-conference workshop on bipolar disorder, and then I'm due to go to a plenary lecture on 'the primacy of emotions'. I'm looking forward to it, but it's sure going to be a lot to digest.