Originally added on 28th July 2019
Last updated on 28th July 2019
The universe is full of magical things patiently waiting for our wits to grow sharper. Eden Phillpotts
At the recent World Congress of Behavioural & Cognitive Therapies in Berlin, David Veale from King's College & the Maudsley reported on a randomised controlled trial of 'triple chronotherapy' for depression.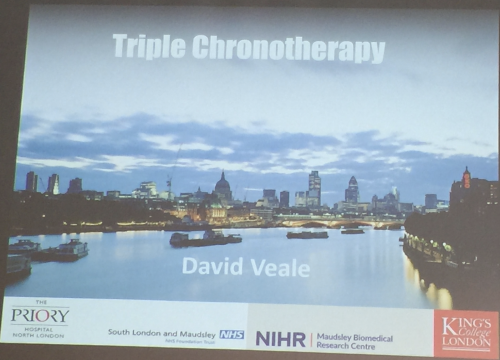 David pointed out that depression can come in all kinds of shapes & sizes, and this treatment probably works best in the subtype where circadian rhythms have become desynchronised.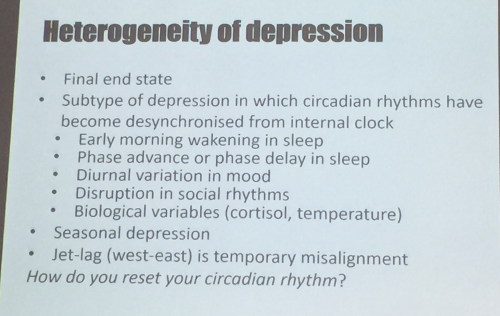 He mentioned that 'total sleep deprivation' as a treatment was described in German textbooks in the 1880's and then was (re-)discovered in the 1960's by a German school teacher, who reported to her psychiatrist that she could temporarily cure her depression by a night-long cycle ride (this didn't seem to be due to the exercise but it was an excellent way of staying awake)! Then a Dr Burkard Pflug put this approach onto the academic map with his 1973 PhD thesis on sleep deprivation for depression. By 2017, Elaine Boland & colleagues were able to show - "Meta-analysis of the acute effects of sleep deprivation" - that in the 66 English language studies (published between 1974 & 2016) that they analysed, there was a rapid response rate in 45% of sufferers in 9 randomised controlled trials, and of 50% in 57 case series. They commented "The response to sleep deprivation was not affected significantly by the type of sleep deprivation performed (total or partial), the nature of the clinical sample, medication status, the definition of response used, or age and gender of the sample." Response tends to be 'all or none'. However there was a real problem with the great majority of treatment responders relapsing again within a few days. So an absolutely crucial question for the 50% or so of depression sufferers who benefitted so rapidly from this simple treatment is 'How can we maintain the benefits produced by the sleep deprivation?'
Triple Chronotherapy: A Randomised Controlled Trial for the Rapid Treatment of Depression
David Veale, King´s College London and South London and Maudsley Trust, United Kingdom
Clara Humpston & Sarah Markham, King's College London, United Kingdom Marc Serfaty, University College London, United Kingdom Allan Young, King's College London, United Kingdom
Total sleep deprivation as a rapid treatment for depression first began in the early 1970s in Tübingen, Germany. Controlled trials were conducted internationally that found that about 50% of unipolar or bipolar depressed in-patients recovered within a few days. There was however a very high rate of relapse and it was discontinued. Researchers from the late 1990's then started to find ways of stabilising the response with triple chronotherapy. This consists of resetting the circadian rhythm by total sleep deprivation, following by manipulating the phase of sleep and adding bright light therapy in the morning. We will report on the early results of a feasibility study in London for
recruiting 62 unipolar depressed out-patients in a randomised controlled trial of triple chronotherapy v a control intervention. In our study, the sleep deprivation was supervised in a small group on the first night with an occupational therapist, followed by a phase advance of their
sleep on day 2 to 5, and daily bright light therapy for 6 months. The control intervention was provided with psycho-education about sleep hygiene and an amber light to use in the morning. Blind observer ratings (Hamilton Depression Scale) and self-report measures of depression, quality of life and credibility of the intervention were used. The primary outcome is at 1 week. Follow up is at 2 weeks, 2 months and 6 months. If successful, the approach could have significant impact in health care provision with a relatively simple behavioural intervention.