Originally added on 26th March 2009
Last updated on 2nd April 2009
Eighth Moroccan post - last night in the desert.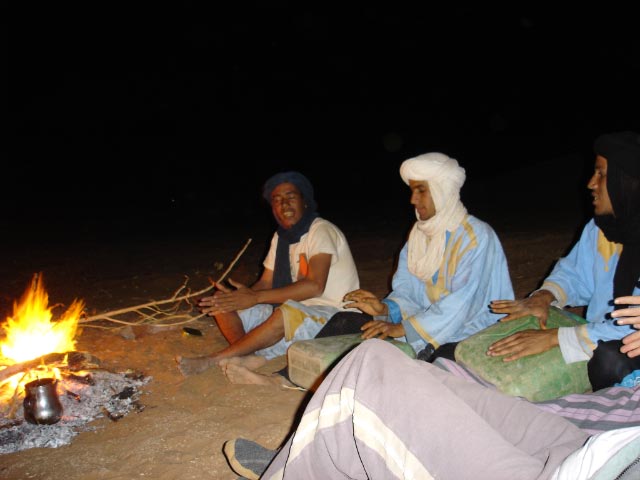 Last breakfast here in the desert - this one at an encampment at Erg Cheggaga.  We arrived last night after one of our longest day's walks (they haven't been very long).  I've not been wearing a watch since the first afternoon in the desert, but I guess we were walking for maybe a bit over 3 hours in the morning and then for a bit less than 3 hours in the afternoon. 
We're now in from the desert proper.  Tired.  We put up tents, ate under the stars, then sang.  Our five guides sang Berber songs, drumming on empty plastic containers.  Full of energy.  Our Western songs seemed quite sad, doleful, beside their rhythm.  We tried singing various tunes, but then came up with something that fitted - "She'll be coming round the mountain" complete with clapping and whooping.  That seemed to hit the spot for the guides!  Great.  Sad.  Lovely.  And we sang on and danced.  Then slept under the stars.