Originally added on 12th May 2011
Last updated on 7th June 2011
Back from the four day peer group in Cumbria. Back into the rich, busy, fascinating river of 'everyday life'. I've written already about the last full day of the group in "Vision express & where are these groups going?" and, as well, about confrontation in "Authenticity, learning & interpersonal conflict". The last morning of the group was good too, with a dip in the stream and a final breakfast, a group meeting with appreciations, learnings, and then to tidying up, lunch, leaving. Driving North again through Spring sunshine and showers. Precious times.
Socrates is reported to have said "The unexamined life is not worth living" (strapline for this blog?!) and apparently a more precise translation would read "The unexamining life is not worth living for a human being".  It's interesting how this parallels findings for psychotherapy (see for example the "Experiencing scale") and for group work (see Yalom et al's findings), where there is data suggesting that those who benefit most from group participation both really engage emotionally with what is happening and also reflect on what can be learned from what occurred.  How do we learn from experience?  Below is Kurt Lewin's model - described in David Kolb's well known book "Experiential learning" (p.21).  The diagram is often erroneously credited to Kolb himself.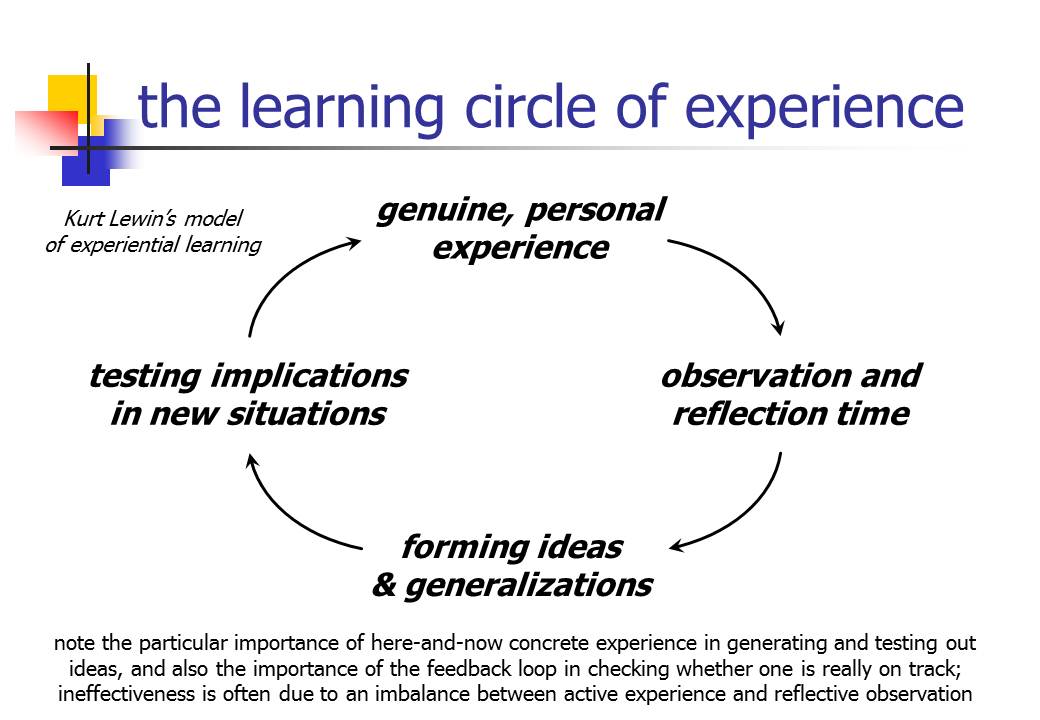 This diagram is downloadable both as a Powerpoint slide and as a PDF file. 
These four day residential groups are rich with experiences and potential learning.  I'd like to chew a little more over a couple of areas triggered for me this year - how these peer groups are evolving and how interpersonal conflict can best be encouraged to lead to constructive outcomes.
So first "how these peer groups are evolving".  Here's the beginnings of a handout that could be given to group newcomers: 
Background:  This loosely linked cluster of peer groups began in 1991 at Fawcett Mill Fields, an old converted watermill in Cumbria.  The first group was Mixed and has continued to meet in the Spring at Fawcett Mill nearly every year since.  In 1993, four guys from the Mixed Group decided to set up a Men's Group that autumn.  For the first few years the Men's Group met at Tharpaland in Dumfries & Galloway.  Then they too moved to meet at Fawcett Mill Fields.  Subsequently a Women's Group began as well - at Yewfield in the Lake District - and for a while there was also a Meditation Group.  The UK Mixed, Men's & Women's Groups all continue to thrive.  They have different, but overlapping, group sizes and "cultures".  There has also been a budding off of a number of more Regional Groups.  So far, this has happened most actively in the North with a Scottish Men's Group that has been running since about 2004 and in 2011 the start of a Scottish Mixed Group.  Other regional residential groups meet in East Anglia and (less directly linked) Cornwall.  There are also a number of regional groups around the country that meet for a few hours every few weeks rather than the once yearly  pattern of most of the residential groups.  By the end of 2011 there will have been more than 50 residential groups that have met with probably 150 to 200 people having been to one or more of them.    
Purpose:  One can see these groups as serving at least four overlapping functions - personal growth, friendship, retreat and outreach.  In the general population there is good reason to think that less than 20% of us really "flourish" in our lives.  These experiential groups can profoundly help us live more fully by becoming more authentic, self-accepting, open, empathic and loving.  It seems that they work particularly at the level of deeper relationships with others and with ourselves.  For participants who come over several years, the groups may transform the quality of our friendships and how we are with our partners and families.  These three to four day 'retreats' are typically held in beautiful parts of the country and they involve time in nature, good food, dancing, singing, a precious time out from the rush of our lives.  And there's outreach.  Friends & their friends & on from there.  Health professionals coming to these groups powerfully endorse them as really helping in their work.  We've spanned six decades in age, and participants have invited their partners, parents & children.  Change spreads more than we realise - "Be the change you want to see in the world".        
Orientation:  Coming to these groups for the first time is by "sponsorship" from someone who has already been.  It's your sponsor's responsibility to help orientate you before you come and to check in with how you're doing once you're there.  Remember though that these are peer groups.  People are likely to be very welcoming, but we also greatly value authenticity.  There will be plenty of good times and there will probably also be occasional distress and conflict.  If you're going through a particularly vulnerable time in your life or you're physically unwell, it may be best to wait until you're more resilient before coming to a peer group for the first time.  The Men's Group has a shared "wiki" website with a good deal of background about the group that it's likely to be useful for you to look at before you come.  There are also extensive blogged descriptions of one person's experience of these groups for the Men's Group in 2008, 2009 & 2010 and for the Mixed Group in 2008, 2009, 2010 & 2011.         
Future:  These peer groups continue to evolve.  In the end it's the individuals who come who will decide how the groups develop.  The Men's, Mixed & Women's groups all have somewhat different mixes of the four ingredients - personal growth, friendship, retreat and outreach.  And what individuals personally find most important tends to change over time.  Come and see.  You may well find coming to these groups becomes a precious, rich thread in your life. 
So that's something about how these peer groups are evolving!  And for more about interpersonal conflict see the posts "Conflict: not too much, not too little, and how to make it constructive - some research suggestions (first post)" and "Conflict: not too much, not too little ... some research suggestions (second post)".