Originally added on 23rd March 2009
Last updated on 3rd April 2009
This fifth Moroccan post is written two days into the desert walk with the mindfulness practice beginning to deepen.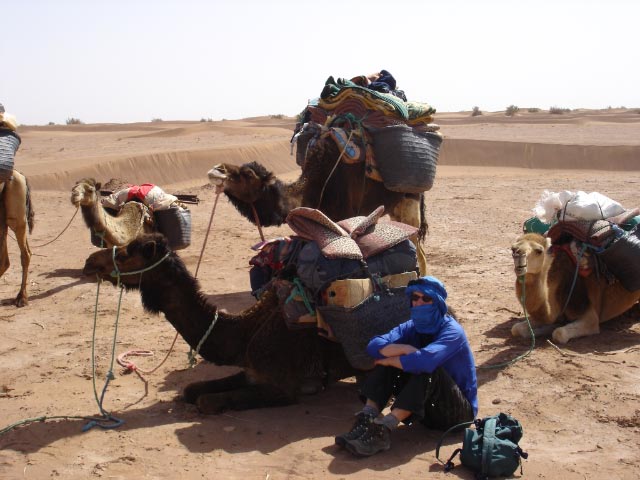 This is the second full day in the desert.  We've been here about 48 hours.  Now is post-lunch siesta time.  Walking meditatively this morning was much easier than yesterday's walk.  I'm not wearing a watch, but I'd guess we walked initially today for between 1½ to 2 hours.  We then stopped in the shade of a tamarisk tree mound for water, nuts and raisins.  The mound was a bit small to shade our whole group - there are eight of us and five Berber guides.  I and the camels seem a bit more relaxed around each other after two days travelling together, so I simply sat in shade thrown by one of the resting camels.  It turned its neck to look at me with intelligent, inquisitive eyes and then seemed fine having me for company. 
Resting by the camels, rather than at the tamarisk mound, also made it easier for me to stay quieter inside and not join in any conversation.    On the first afternoon's walk from our start point at M'Hamid, we chatted, talked with Said and our other Berber guides, began to get used to walking again after the long drive from Marrakech.  We spent the first night at the edge of the scrub desert.  Then a beautiful dawn, walking all morning, delicious lunch, siesta.  Then leaving the encampment several of us were guided over the small dunes to a ruined village, old graveyard, and the small one roomed cell where a holy man used to live centuries ago and which is still treated with reverence and visited by the faithful.
Then back again across the dunes - tiring to walk over soft dune sands - and green tea, talking, laughter, and later under the great swathe of stars, a supper of hot soup, rice, sauce, and oranges sliced and scattered with cinnamon.  More tea, and the Berbers come to join us, easily outdoing us in energy as they drum and sing in front of the wood fire.  And to bed.
This morning, waking, a bit dissatisfied with myself and the group.  And so much of this a reflection of the state of my mind and body.  I work so busily at home, very structured most of the time, one - mostly fascinating - task after another.  "Stopping" here in the desert, so little to do, initially my mind keeps spinning.
... but walking today feels different, partly because some of the time we were walking on great flat expanses of sand with a patchwork net of hardened "sand scales" over it.  Simple easy walking and easy too to stride along off to the side, keeping the train of camels visible but walking easily on one's own.  Initially I helped myself to stay present by moving repeatedly through the Autogenic relaxation sequence - arms, legs, pulse, breath, belly, forehead & face, neck & shoulders - not using the Autogenic suggestions around heaviness and warmth, more encouraging a sense of softening, loosening and letting go.  And intermittently linking this in with coming out of my busy head and coming instead to my senses.  Noting what I can see, what I can sense, what I can hear.  And I remember how a friend, a Tai Chi teacher and dancer - taught me once a walking visualisation sequence that I now adapted - "Feet brushing through the air leaves" - repeating this phrase several times, with a sense of moving feet easily through imaginary leaves.  Then "Empty head floating up to the sky."  Again with several repetitions.  Then "Face clearing and evaporating" repeated, and "Heart softening, opening", "Shoulders, effort dissolving" and "Spine broadening endlessly."  And I could feel my body, my mind letting go spontaneously.  Intermittently a long sighing out breath ... blessed walk ... soft, dissolving, present ...
I remember the lovely Mary Oliver poem "Wild geese" that one of us quoted when we were here in the desert two years ago "You do not have to be good.  You do not have to walk on your knees for a hundred miles through the desert, repenting.  You only have to let the soft animal of your body love what it loves.  And the tents are raised near some major sand dunes.  Lunch, singing together, siesta and writing this.